IoT taking CRM to new heights
Introduction
Customer Relationship Management in the 1990s and early 2000s was, for the most part, based on collecting database details to undertake actions such as invoicing members, creating communications or keeping subscription data.
During this time, automation data generated on factory floors was kept in siloes and stored for the purpose of reporting on work completed or maintenance incidents experienced.
In recent times we have seen a continued push forward in various technological capabilities. There has been rise in mobile connectivity as an extension of internet accessibility. We have also seen increasingly cheap and easy availability of motion sensors as well as the introduction of RFID tags and QR Codes. There has also been a growing ability to produce, store and organise large amounts of data. All of this has enabled an explosion coined as Internet of Things (IoT).
Combining IoT data with customer data has translated into a CRM revolution by way of enhanced contextual awareness (Rizvi, 2017). Before we look at this powerful combination, it is essential to get an understanding of a Customer Relationship Management (CRM) System as well as an Internet of Things (IoT) System.
Customer Relationship Management (CRM)
CRM is more than just managing customers. It refers to the principles, practices and guidelines that organisations do when interacting with their customers. This includes all aspects of how the organisations interact with their customers, staff, technologies, boards and social media (Hargarve, 2019).
It is a capability that companies use to understand their customer groups. It is a tool that gives the ability to respond quickly. It provides organisations with the ability to collect, manage and leverage large amounts of customer data. It enables an organisation to identify and address the challenges customers experience during their life cycle. This information often also used for tailor products to specific customer segments as well as helping guide new product development (Bain & Company, 2018).
CRM's are either On-premise or Cloud based:
On-premise – this is the traditional view of CRM and is a 'one place software solution' that keeps the data in one place around a customer that could include – contact data, purchase history, fundamental interactions and is also commonly used to track KPI's as well as monitoring sales goals. These systems can sometimes be slow to connect to but tend to be very accurate.
Cloud – these are cloud-based systems, often based on previous CRM software solutions. As they are cloud-based, they can be accessed by the sales teams in or out of the office, as long as there is an internet connection (with some caching available when connectivity is lost). These systems are also highly accessible for customers and can combine multiple other methods such as Online Stores, Events Management and donation management. These systems are often very easy to connect but can be very expensive if not configured correctly. Also, customer data can be compromised if strong data security measures have not been put in place (Hargarve, 2019).
CRM has moved beyond being seen primarily as a sales tool. With artificial intelligence (AI), CRM has now become a marketing tool that assists organisations to analyse and assess leads and clients. This data is used in:
Building customer personas
Developing meaningful and relevant content
Developing engagement strategies
Developing methodologies to convert customers
Automate marketing
Enabling better personalisation and segmentation
Creating tailored customer journeys (Ceresa, 2018).
The most common CRM's include:
Microsoft Dynamics 365 – a powerful software that is commonly used for Sales, Marketing, Service, Finance, Operations, Commerce and HR. There are many Multinational companies that use it, including UNICEF, HP, HEINEKEN, TESLA, BMW, VOLSWAGON, VISA, Lenovo, Hitachi, Nokia, Telstra and thousands of others. (Microsoft, 2020)
Salesforce – a software that connects customers across sales, customer service, marketing, communities, apps and analytics. Customer that use include Fisher & Paykel, CreativeCubes.co, Seafolly Australia AMP, Cotton On. (Salesforce, 2020)
Internet of Things (IoT)
The internet of things is a system of interrelated digitally identifiable objects. Typically, it is often thought of as a compute device but extends to include anything that can be tagged with a unique identifier, which can generate data and that data can be transferred without requiring human (or computer) interaction. (Rouse, 2016)
For IoT to work, it needs the following components:
Sensors or Devices – Sensors are simple devices that measure something. This could be a temperature reading, a humidity reading, a wave height, tyre pressure or any of the thousands of sensors that are in our everyday life. Devices, on the other hand, can be much more complicated. Devices, such as a mobile phone, car computer, iPad or factory device could include multiple sensors, but they are a device and can do more than one thing. The most important thing to remember is that the Sensor or Device is the first point of collection for the data.
Connectivity – For IoT to work there needs to be connectivity to the internet. The sensors or devices need to connect to the cloud. This could be done through a variety of mediums including Mobile Network (3G, 4G, 5G), satellite, WIFI, Bluetooth or connecting directly to the internet (for example, by connecting via ethernet).
Data Processing – Once the data is transferred, it needs to be gathered somewhere. This is called data processing and is software which is used to collect the data and store it. This could be very simple, such as reading the temperature in your garden, or very complicated, such as the scenario where a door is opened and a sensor is triggered as a burglar enters your house!
User interface – this is perhaps the most important part of IoT integration. This is how the end-user gets to see the data that the IoT devices are producing. It could be as simple as a graph that shows the temperature for the last 24 hours, down to a fully integrated IoT application that works directly with a CRM to provide immediate problem/solution processes (McClelland, 2016).
The downside to IoT is the risk it poses around digitalising and integration of digital infrastructure in the digital economy – and there are several arguments around the cyber risks of this technology (Petar Radanliev, 2018)
Some examples of IoT Devices include:
Consumer connected devices, including smart TVs, smarty speakers, toys, wearables and smart appliances such as air conditioning, lighting, thermostats
Smart Meters – including Electrical and Water meters
Commercial Security Systems
Traffic Monitoring devices
Weather Monitoring devices
Industrial devices
Farming devices (Rouse, 2016)
IoT and CRM – a powerful combination
IoT has a significant impact on CRM as the data produced by IoT provides CRM systems contextual understanding of customer behaviours and activities that can enhance the AI capabilities (Rizvi, 2017).
These benefits can enable organisations to:
Monitor their overall business processes – they receive current, update to date data on when methods are working or failing.
Improve the customer experience – they have vast amounts of data of what kinds of things customers are looking at, and when they have peaks and troughs. This data can be used to improve the customer's experiences and predict their next activity, use or consumption.
Save time and money – as data is often live, alerts occur when the problems arise enabling organisations to be act before the issue snowballs.
Enhance employee productivity – the systems can undertake routine tasks, which enables employees to spend more time on higher level work.
Generate more revenue – as a result of improved customer experience and increased capability to target (customise/personalise) products and services (Rouse, 2016).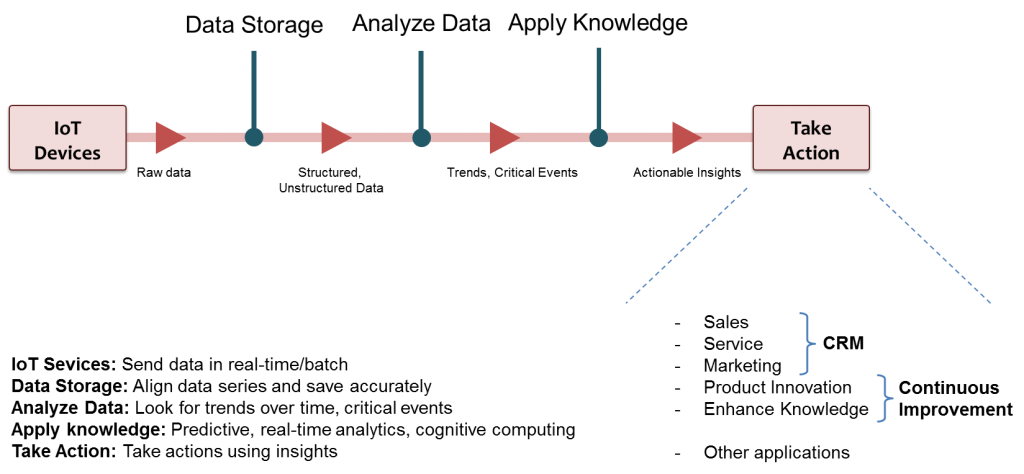 Some examples where CRM and IoT have worked hand-in-hand are:
UBER – Uber is a ride sharing company that offers services that include peer-to-peer ridesharing, ride service hailing, food delivery and a micro mobility system with electric bikes and scooters, but in reality it is a data and technology company. It uses connected devices (smartphones) representing passengers and cars interacting. It does this by always knowing the positions and times of all connected devices. It also interacts with traffic devices and maps to intelligently route passengers to their destinations. (Uber, 2020)
Smart Farming – Farmers are more and more using advanced techniques and research to increase food production. This is known as IoT in Agriculture. Farmers gather data by sensing moisture and nutrients, controlling water usage and determining customer fertilizers to get meaningful insights which can increase food production.
Smart Homes – Probably one of the biggest changes in IoT is the ability to use devices such as Google Home to connect systems in the home such as smart heating systems, refrigerators, connected security cameras, sound systems and lighting systems. This gives the ability for people to control the devices in their home from their mobile phones or anywhere there is an internet connection.
Fit Wear – this IoT technology started simple as a way to "measure your steps" but is now weaved itself into society in the form of Fitbit and smartwatches. As these products advance, they are used in healthcare as monitors, including ECG Monitors, Blood Pressure Monitors, Biosensors and other measuring tools. (Rizvi, 2017)
---
References
Bain & Company. (2018, April 02). Customer Relationship Management. Retrieved from Bain & Company: https://www.bain.com/insights/management-tools-customer-relationship-management
Ceresa, A. (2018, August 27). How CRM Improves Your Customer Service & Overall Customer Experience. Retrieved from Customer THINK: http://customerthink.com/how-crm-improves-your-customer-service-overall-customer-experience/
Hargarve, M. (2019, April 23). Customer Relatioship Management – CRM. Retrieved from Investopedia: https://www.investopedia.com/terms/c/customer_relation_management.asp
McClelland, C. (2016, October 29). IoT Explained – How Does an IoT System Actually Work? Retrieved from Leverege: https://www.leverege.com/blogpost/iot-explained-how-does-an-iot-system-actually-work
Microsoft. (2020). Dynamics 365. Retrieved from Microsoft Dynamics: https://dynamics.microsoft.com/en-au/customer-stories
Petar Radanliev, D. C. (2018). Definition of Internet of Things (IoT) Cyber Risk – Discussion on a Transformation Roadmap for Standardization of Regulations, Risk Maturity, Strategy Design and Impact Assessment. Retrieved from Cornell University: https://arxiv.org/ftp/arxiv/papers/1903/1903.12084.pdf
Rizvi, M. (2017, December 23). Implications of Internet of Things (IoT) for CRM. Retrieved from Customer THINK: https://customerthink.com/implications-of-internet-of-things-iot-for-crm/
Rouse, M. (2016). internet of things (IoT). Retrieved from IoT Agenda: https://internetofthingsagenda.techtarget.com/definition/Internet-of-Things-IoT
Salesforce. (2020). Salesforce 360. Retrieved from www.salesforce.com/au.
Uber. (2020). Uber. Retrieved from Uber: www.uber.com/au/en-au/
Check out the Lucid Insights blog

There is a variety of content that may help you to improve your business!